Why exactly do businesses sponsor literary Magazines? I honestly do not know for a certainty. SOBCA decided to sponsor a literary Magazine I curate and I have detailed the journey in this post. I believe sometimes business decisions are emotional decisions and it might be difficult to pin them down. However, In my book "Discover Storytelling," I shared how value exchange can be incentives for sponsorships.
In fact, when you write your statement of purpose for scholarships or grant appeal for NGOs, the idea is to prove there's a value exchange. There must be something about your core values or process that resonates with the opportunities you seek. 
The Sam Obafemi Behavioural Change Academy  (SOBCA) and cfwriterz have partnered on the Dec 2018 Freedom Magazine.
What's SOBCA Doing?
The Sam Obafemi Behavioural Change Academy (SOBCA) is a solution-driven consulting brand whose goal is to SELL SERENITY. Through SOBCA, people get resourceful solutions to mental and emotional challenges. SOBCA has helped individuals with emotional and mental health training across the African continent. Officially, the brand became registered in Rwanda, and is making such tremendous leaps across borders. Earlier in 2018 SOBCA was nominated TOP 100 EMERGING SMEs in Nigeria, emerging 30th. SOBCA's contribution to personal and behavioral growth has been immense and far reaching. The brand also extends organizational performance enhancement through intensive emotional intelligence coaching. Looking through Coach Sam's social network of entrepreneurs and business owners, you'd find impressive ventures. You'd simply want to learn all he knows about emotional intelligence, managing your emotions and achieving a more productive lifestyle.

What's Unique about SOBCA and Coach Sam?
The first encounter I had with Coach Samuel Babatunde Obafemi's Platform was sometime in 2017. I had just completed some work with Mofoluwaso Ilevbare, and who by the way is a Bestselling Author and John C. Maxwell team Coach. Mofoluwaso's work has reached such heights that I was caught by her commendations about Coach Sam and his work. She referred to Sam Obafemi as her coach and this informed my decision to connect with his brand. Like, whoever has had such positive effect on such a great woman must be great himself.
A recent comment by Praise Fowowe (Founder of Center for sex education and family life) says about the Coach:
"You are serving God by building all forms of systems that helps humanity. Thanks for all you do Samuel Babatunde Obafemi"
You'd understand why it became a need for me to connect with him. Over the few months, I have come to realize how effectively he builds capacity through his platforms. The most endearing quality you'd notice is the human touch to his work and broad vision. The stories he shares and the brand he builds are aligned to his business goals.
Kola Aina says:
Sam is a consultant that truly cares deeply about the impact of his work on you and your organization. This is really a distinct quality which brings to fore the personality and brand values of Serenity.
Coach Sam the Author of "But What do I know."
Asides the business dimension to Coach Sam, he is an author. He writes persuasive and authority content on his social platforms so this should come without surprise. His new book "But what do I know," is designed to help readers navigate unconventional wisdom. The author's intent can be felt while reading through the social feed about this new book. Now, you might start to see where the lines meet. Literature and business are coming to a nexus in recent years. Storytelling has become an accessory for selling through social media and digital platforms.
A "But What do I know?" Story
He continues to explain that unfortunately, VERY MANY people do not comprehend the sacrifices people make just to keep them afloat. You find people who are UNGRATEFUL, UNCONCERNED & UNCOOPERATIVE. You find people who feel ENTITLED & DISGRUNTLED. And you find people who are RESISTANT & OPPOSING their own helpers.
In a recent post, he tells the story of his journey to Kigali. Where a brother Ibrahim Maigari Ahmadu called and shared with him. He talked about a lady who desperately begged to be employed in their new enterprise that commenced in Lagos just recently after so many years of 'hustling' in the North. Ibrahim further told him that when he returned home to see his family in Kaduna, he was having this epiphany that PERHAPS GOD SAVES US FROM MANY DAILY DOOMS BECAUSE OF THE FEEBLE HANDS IN OUR MIDST.
A gate man is paid his wages, and in addition, his children's school fees are taken up by his employer, and when his wife is sick, the employer pays. He is even given accommodation and some extra comfort, but he says OGA DEY CHEAT ME.
You see a Housekeeper whose wages are paid in full. And to that, her vocational development bills are paid for, she's given clothes, food, shelter when she is indisposed, and even her family comes under welfare from the employer. But you hear her say MY OGA DEY CHEAT ME.
Employees, siblings, friends, employers, neighbours, social media fans, etc… we are everywhere… we do not appreciate what it takes for someone to give you from their sweats… not all of us, but many of us.
He concludes with this
"Someone somewhere is paying the price for what we enjoy. NOTHING IS REALLY FREE. ButWhatDoIKnow?"
This story captures and depicts the intent of the author in the book "But What do I know?" The author uses his own stories of being a victim of abuse and 'over-advising' to portray an argument for the younger generation to ponder on, analyze and then build a core for their decisions and life choices. This book is a beginning. He thinks, young readers should take conscious effort to engage their thought patterns. This book would definitely revolutionize the way we view our lives. Other titles by the author include The Vexed God, Vision Clarified and Rebellion is a Need.
Brand Sponsorship for the Freedom Magazine.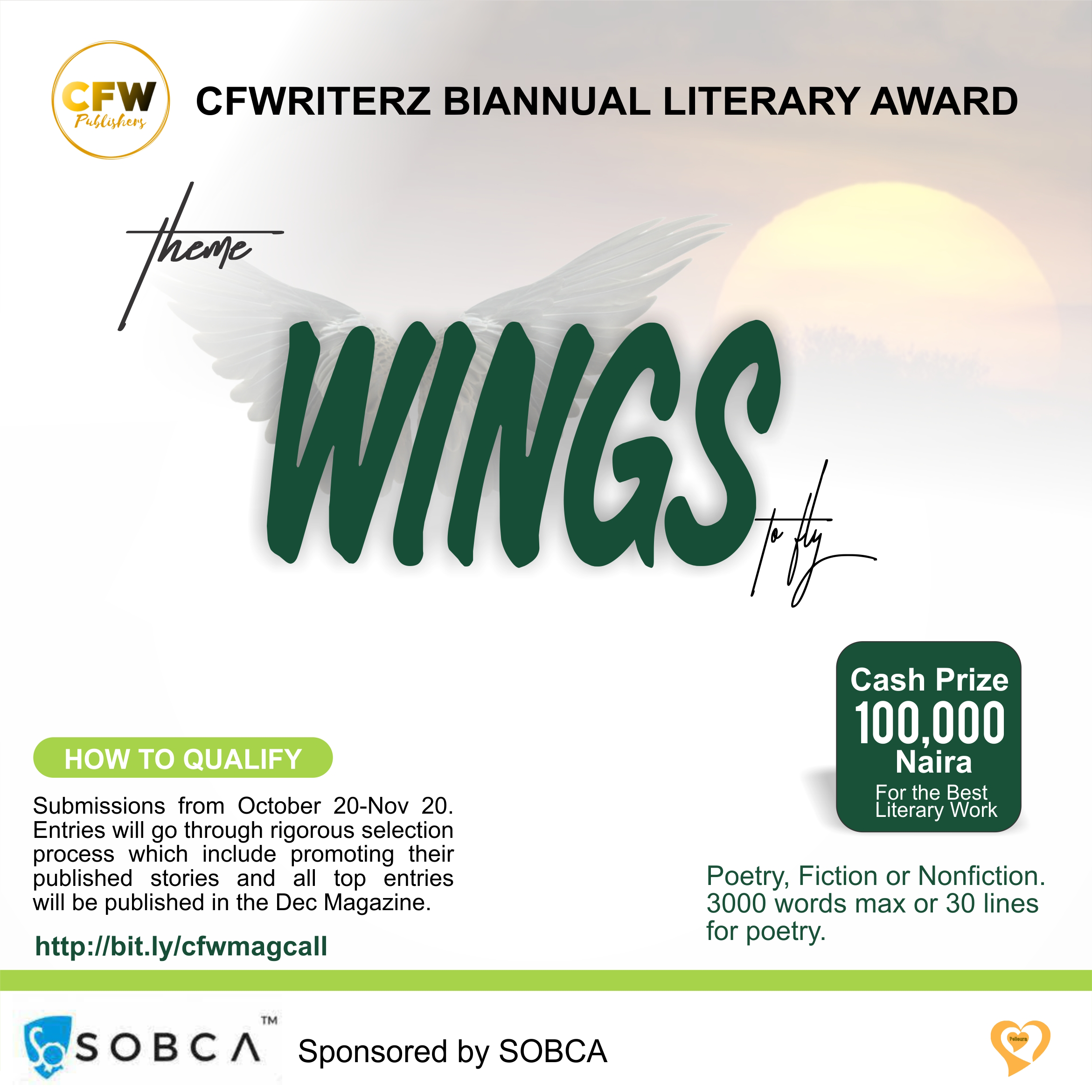 On the 29th of September, I was convinced I had to get a copy of "But What do I know," so I sent a Facebook Message. We discussed and Coach Sam had promised to give me a copy in person when he arrives South Africa in December. I look forward to meeting him. Later on, I reached out again to discuss the "Freedom Magazine" sponsorship.
A lot of readers are aware that the cfwriterz Freedom Magazine published it's 3rd Edition in June 2018. The platform has grown into a major literary community for Nigerian and African Writers. The Magazine, Ebook Publication and Community Engagements have been the major tools by which the team promotes African Stories.
The Cfwriterz Team Values 
In the June Award, a Winner emerged from South Africa and two others from Nigeria. The top story was "The Mysterious Matter of Mallam Musa's Missing Murano" by U.K. based writer, Adebola Oluwaseyi. The freedom Magazine seeks to encourage emerging African Authors to tell their stories through her paltforms. Recently the cfwriterz team has recorded a number of wins. The Biopage International Essay Winner and The Winner of the 2018 Quramo Writer's Award; Oladeji Jonathan (Founder) and Michael Emmanuel, respectively.
You should realize that at this point, the spirit behind the cfwriterz team is one of passion for youth development and adventure. We were just waiting for the right brand to be part of our campaign to promote literary freedom, expression and creativity among young Africans.
All these developments were in the wake of the agreement which led to the partnership with SOBCA. After reaching out to a number of equally interested brands about our proposed Magazine award, SOBCA agreed to fund the award worth #100,000 (One Hundred Thousand Naira only).
The top entry for the December Magazine gets the cash prize. This journey with the SOBCA brand and Coach Sam Obafemi has reaffirmed the idea that the youths of Africa deserve a voice. There are brands like SOBCA who continue to fan the flames of power, capacity and productive engagement for the young in Africa.
Interested in being a Partner with the Freedom Magazine project? Contact the team or Donate here. 

This is part of a series titled "unfettered." Follow the blog to see more like this.