I'm DaMILOLA
A CONTENT EXPERT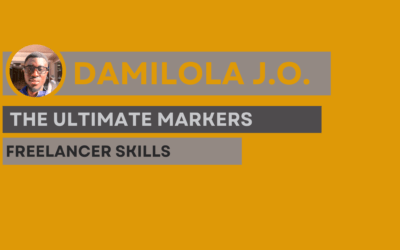 Every freelancer must have a profitable skill. Freelancing in itself isn't a skill. It is an approach. The actual skill you will sell through this approach must have these 4 attributes: It must be a skill with digital value. In other words, there are digital products...
Blog Articles
This is one of the easiest tools for building brand authority and reach. I'll help you create engaging articles for your business or personal blog. 
SEO Strategy
Researched keywords and search optimization are critical to ranking your site. Let's optimize your pages and content feeds for searchers online.
Brand Story
With your brand story and kit, you can keep a consistent voice and tone throughout your marketing. This is useful for your marketing brochures, About page, and social pages.
Content Strategy
I am able to work through your ideas and help you map out a strategy for growing your brand using the right content ideas. 
Sales & Landing Pages
For every new product or campaign, I will help you write the sales letters, landing page copy or emails for you to activate your promotions. 
Website Design
Whether you are starting a new business or just creating a website for an existing offline business, I will design it for you.
Amazon Publishing
Are you looking to publish a memoir, autobiography, or other literary works? I will get your work published on Amazon print or kindle. 
Lead Magnet Design
I help businesses create lead magnets in PDF downloadable forms. A lead magnet could be an ebook, assessment, checklist, guide, or newsletter.
Brand Name/Tagline
Need help naming your brand or creating a catchy tagline? I'll help you get this done in record time. 
My name is Damilola Jonathan Oladeji and I am passionate about creating the content that business owners need for their marketing funnels. I have written thousands of content pieces including brand stories, sales copy, website content, emails, and all kind of lead magnets. I have served businesses in health and wellness, real estate, retail, igaming, consulting, risk management, construction, cryptocurrency and web3 marketing, advertising and lots more. 
MESSAGE ME ABOUT YOUR PROJECT NEED