I don't mean cutting with lawn mowers or any such contraptions,  I am talking about the o'l school-kumbaya-grandpa's cutlass.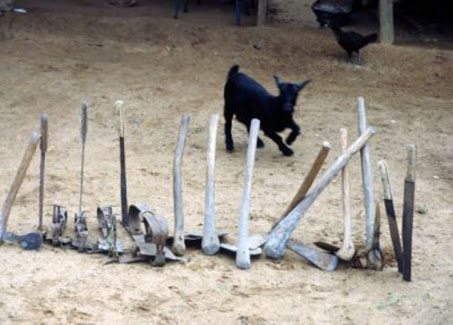 I remember when we were in boarding house we had a list,  the house master or mistress would check us in with this list:
2 white bedsheet
1 cover clothe
Mosquito Net
.
.
.
1 cutlass
1 hoe
1 Bamboo cane
And may God bless your soul,  just forget the cutlass and hoe but please bring the Bamboo cane.  Some public schools also had to buy these items and each pupil's name would be inscribed on it.
I think our house master,  usually looked for the hottest afternoons to initiate the gardening exercise. It was during one of such exercises that In discovered that bending the cutlass at its tip actually made cutting very easy.
I decided to write this post as a way to remember some things I learnt in school,  while dreading the torturous environment we had to endure for learning to take place.
We were told that cutting grass was a way to teach us "discipline",  I think the school just needed cheap labour!!  What do you think?