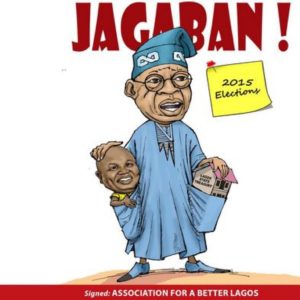 Ogbeni ma fi Ibinu rin woja
The market place is for our maami,
when early dawn,
all the way along Tinubu street,
Iya orekelewa would pieces her breast,
stir through the muddy splattered with foolish Mad.
Jagaban the power of notoriety,
Change is constant,
Iro ni sir!
Jagaban is a permanent address,
the chieftaincy title of our Father,
was bestowed on his person,
He never chose to be the Jagaban of gbogbo Nigeria,
His Royal Highness, Alhaji Haliru Dantoro III,
the Emir of Borgu (New Bussa, Niger State),
We Salute your telescopic coronation.
BOW!!
The Jagaban,
acquired the Lagos backyard,
Institution for the boys and by the boys,
Maami would not dance ooo,
The boys brough corporations,
Lasma,
Lawma,
Oyes,
Yes O!!
stuck in pride mud drags of folly,
I saw Were the mad beggar on Tinubu street,
Sitting wit maami,
they would rather fight the Jagaban.
What folly?!!
Would you fight the Jagaban?
1. The "Jagaban" is not a yoruba slang.
2. The Jagaban is Chieftain "Asiwaju of Lagos"
3. In 2009 EFCC cleared Jagaban of abuse of office, laundering and official corruption, yet FG rejected a request by Britain to release eidence needed to prosecute in a London court.