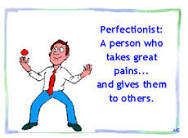 I really am unsure of how to delve into this topic.
"Be ye perfect as your Father in Heaven"
"Perfect love casteth out all fear"
The call to perfection seems so SAD if seen from the human perspective. The perfectionist wakes up in the morning and everything except his is wrong. The Bed is not as laid as it should be, the kids are not up early, the floor is unswept and practically everything is wrong around him/her except themselves.
The perfectionist embraces the day with a frown. Listening to "winning attitude" by John C. Maxwell, our perception or attitude of life tends to become our reality. The perfection that is rooted in the flesh is all about negativities. What others are not doing right and why they ought to think more like "me".
The perfection found in the human heart is different from the one God desires. " I can't do that if it was me", "I can't make such mistake", "I wake up early", " I am not like others who throw their left food around", " I cannot be so rough like others" and on and on. The human perfection is selfish, its basic desire is to conform others to the requirement it creates.
"Brethren be not children in Understanding: howbeit in malice be ye children, but in understanding be men"
The perfectionist, creates malice or is malicious. He justifies himself with "the world is sinful and corrupt" "Its my Job to fix them". God's word according to the Bible that I believe instructs anyone who craves perfection to be "understanding" "considerate", respect the opinion and personality of others. Trust that others around you are not out to get you but also in their own rights seek to be perfect too.
I once read or heard that perfectionists are never happy which is commonly true, However perfecting the right things "understanding" and being "silly" in the wrong things "malice" would make a HAPPY Perfectionist.
Dami de furst ¤Writz¤