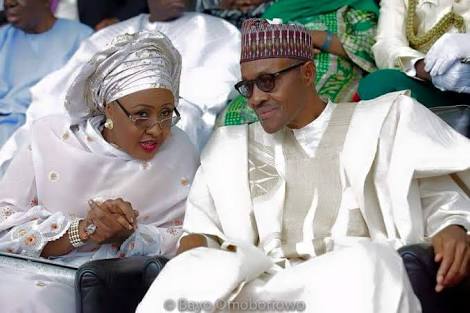 The "other Room" is Dead
Asides from Reuben Abatti's insinuations that Aso rock kills something below the waist, I have many other reasons to believe that there is nothing remotely emotional or romantic going on within Aso rock. The other room may have existed in some yesterday years but presently it seems to be dead and forgotten.
Let us assume that Aisha was being a pet, a petty nuisance as we are made to think by those who continue to #StandWithPmb, I believe the existence of the other room always leaves space for such battles to be fought within the confines of naked darkness. Maybe we should reintroduce pillow talk to the Aso rock and teach men how to accord due respect to the voice of their woman.
Aisha is a mother hen, she is threatened and this bruhaha is her "cry for help". No sensible Nigerian will say they are unaware of uncanny activities surrounding the " cabinet":
1. We have had one cabinet member who resigned after allegations of examination malpractice.
2. We have had a plagiarist in the cabinet.
3. We have had budget padding scandal within the same cabinet.
Any sensible Aisha would say that the cabinet has been hijacked from the kitchen to the "other room".
I hardly comment on political matters, but seeing the ignorant comments flying here and there, I have no choice than to say it is a condemnable act for anyone to objectify the woman in such a time like this.
It not only portrays our nation in a bad light, it represents our retrogressive view about the role of women and vulnerable groups in our society. It paints us as an evil and conniving nation, who will ride on the populous female gender to reach political power and then claim that we reached such heights barely by male brute force and tact. Any broke nigga can play that card!
Some say PMB made Aisha who she is, but not only is this an ignorant statement, it also shows the warped mentality that ignores the woman's capacity and bestows every right she has on the man to whom she is eternally latched like a inconvenient hand luggage.
Must I remind us that the Aisha we know was born into the family of Nigeria's first defense minister, Mohammadu Ribadu, in Adamawa state. Aisha is an educated woman who speaks fluent English and Arabic. She graduated with a bachelor's degree in public administration from Ahmadu Bello University, the largest university in Nigeria and the second-largest in Africa. She later received diplomas and training in cosmetology and beauty from institutions in Paris and London. Aisha is currently a graduate student of international affairs and strategic planning.
Aisha is no leach, she is not the typical African girl who parasites herself to the destiny of a man, hoping that he has potential to make her life easier. She is a woman and human in her own rights. If PMB was not President I doubt if it would add to or remove from her accomplishments, except for the fact that she would be married to "just any other Nigerian" citizen.
On the other hand, I doubt if May 29 2015 would have been the same result! We were told that he respected women like Aisha, We were told that every Nigerian is human, irrespective of gender, social status, affiliations, religion and Aisha gave us more reasons to believe that. I remember watching an interview with her just before the elections and I could see the apt and concise nature of her responses to questions about her husband. She made me believe that he doted on her like most women desire, she made me think he was the "Epic" playboy in "the other room".
But the way he sneered in that statement, the way he condemned the Nigerian woman to the confines of domestic nothingness and petty sexual escapades, I doubt if there was ever " the other room". I believe the other room is a dead dark room, where nothing breathes except it is given permission to so do.
PS: Aisha lives wherever the Halliburton Aisha lives, so feel free to make assumptions about the Names and initials used in this article.