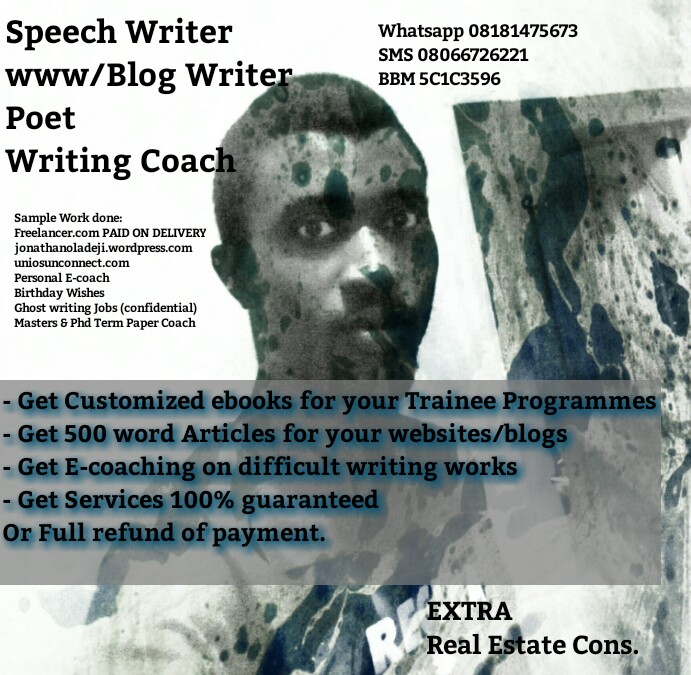 Hey! How is the writing? Sometimes it takes a while to get in the flow but as they say "if we do not switch on the tap, water does not start to flow". I want to address issues for writers who "get Paid", so if you are still writing for leisure this may not be for you but you could revisit this post someday so just go to your browser window and copy the http://www.jonathan….. Blah blah and keep the link to this post. For those who want to…
GET PAID
Its very important at this point to reiterate that PAYMENT is not a reward it is part of the ART, I will illustrate this point at the end of this post. Keeping this in mind,  there are some major issues PITFALLS to avoid when you have Negotiated or are Negotiating a Payment:
No Payment is too small.
this is important,  so if possible write it down. I have taken FREE writing Jobs for 4+years since I started this blog in 2010. Throughout that period,  I hardly felt the drive to improve my READING and RESEARCH skills as the past 2 years when I started getting paid jobs. So if you have to take a job ask your client nicely to PAY, knowing its your investment into a better writing attitude.
Deliver what you offered.
Document what you have offered to do, highlight milestones. I took a couple of jobs on freelancer.com and sometimes I would do a large volume of assignment, losing track of what our agreement covers. Take your time to create a shared project document even if its just a notepad file, share it by email so that the record exists for revisit and DELIVER to specifications.
Be Specific
This directly derives from the previous point, BE SPECIFIC. Highlight the various stages that would conclude the job. For example:
In Academic writing,  there are 5 chapters,  the Annotations,  referencing and Bibliography. Specify which parts you would cover based on the fee,  this could also help your negotiation.
Another example are blog or website posts, where you could say "I will write 500 words on Costa rica"
Deliver to time
Always fix a deadline and try to deliver even earlier than the deadline. If you would finish the work in 3 days,  agree on 5 days and deliver before the 4th day.
Do NOT Panic
Its normal to feel little anxiety when your client has paid a Down-Payment, some of us would experience a fear of under-achievement. This is exactly the time to push your limit and do more than you are comfortable with,  then the Art improves.
"PAYMENT is not a reward it is part of the ART"
Usually my mom would spank us for eating the piece of meat in the first during meals. I grew up to know a lot of young people who could eat the meat at any point. The difference was that,  those who could eat the meat at any point regarded the it as part of the food and not a reward for STRUGGLING Through a bad meal.
Your work plus the pay is the ART.
Check out some of my earlier posts, you can work on your study, learning habits and see some of my works as guides for your writing.
I will talk about, Paid Writers: 5 Negotiation tricks in my next post.