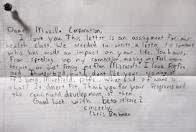 Dear Julian,
Your smile so captivates my heart and makes me sad tOoo. I drib lots of saliva when I try to smile, I like the cold feel of the flow down my chin, I like to jump and bob my head round and round, it makes the clouds go all round.
When I had my 16th birthday last year, I saw you walk by, seemed you did not really like the coloured balloons and my friends from playgroup. I waved at you and wished you could come try the chocolate Icecreams, they smear so warmly on you, could make you burst with excitement.
Since I turned 14 something changed about me, I still do the usual fun things play with the kids and all, throw my toys well still (I like the squeaky dolls) but I suddenly feel so grown-up. I feel warm and cold inside when I see you, I always want to see you around. I want to share my toys with you, for you to hold my hands and drib saliva all day.
But I hate myself, my Dad does not love me, you don't look at me and I heard they took mom away so she stops injecting herself with sugar, I don't know why she injects herself with sugar when we could chew bubble gum all day.
My brother smacks me when I drib on his school books, I wish he could just hug me the way he hugs bobo, maybe he would hug me if I could wag my tail like Bobo.
Julian, when will you come talk to me. When will you smile at me the way you smile at Silvester? Will you come to my window at least and tickle my tummy, make me laugh so I don't remember how much Daddy hates me!!
Love,
Eddie.
Dami de furst ¤Writz¤