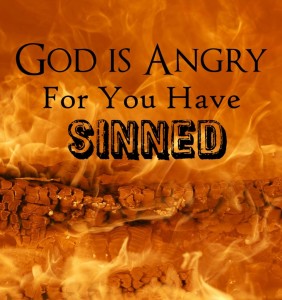 Picture Credit: http://reaganramm.com/
I listened to a message recently about how "we don't fear God enough ooo". If not for Jesus we would all be struck dead because of our sins. I really need some help ooo, people who can explain this better because here is my own simple deduction:
Zillion years ago, heaven was calm and then LUCIFER!!! *sound effect* dandannnnn!!! . one of the newest creations of God was taking all the "attention" space, angels were really getting all the good vibes from God because he really loved the new guy and could be seen trotting the whole grounds with him.
Till one day, they disagreed on who the angels respect more, LUCIFER was quite sure the angels really owed him a lot of gratitude for the fun and the partying (the guy can like to groove). God used to be just full of his "POWER" ordering everyone around for "his glory" some would say that was boring… So a big fight ensued, things went all baaadddd….
God retreated into his lightening and dark majesty and could be hardly felt around. Heaven fell silent as cohorts of Angels formed confused camps…no one knew where God used to slip off to, or what he was up to. And a war was brewing between the archangels and LUCIFER.
LONG story short, God had been busy making some other being far better than LUCIFER, he even was in God's image and had the seed of life in him. Those who snuck along those journeys to the place called Eden saw God in his splendour again, having a nice time. God could care less if the heavens burnt to ashes!!
Reports reached LUCIFER'S Camp, he felt spited. "An enemy that ignores you his worse than the one who tears you apart" He thought. He was still licking his wounds after his fruitless efforts with Archangel Michael and the others, they had by some cunning destroyed his camp and "REBUKED" him in the name of the Holy one. So LUCIFER and his fellows could not show face in camp, they had to go after this new found love. LUCIFER tore God's heart out a Second time, and God EXPLODED!! Yes God started to rage red hot!! Consuming Fire mode…
He just lost his cool and placed a death curse on anyone that follows the path of LUCIFER, He was all over the place. As soon as MAN, the new being started to have kids, those tiny things that grow up into DISOBEDIENT brats. God was everywhere killing and maiming, taking sacrifices from those who wanted to live. UNTIL JESUS.
I hope this is not who God Is! But please did I get the full gist? Cos Pastors can make me to fear a lot oooo….