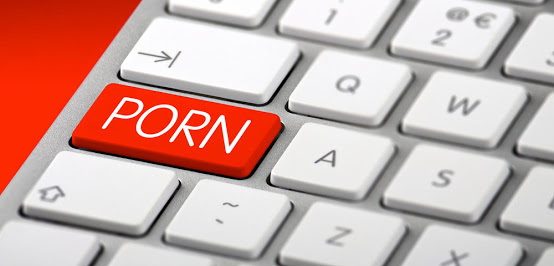 I could not control what google brought while I was searching for an appropriate image for this post. It made me remember years back when I would intentionally stumble on porn sites, I could be there for hours after that.
It was hard enough when porn was sold in vcd and dvd compact discs, getting the right "stuff" could be very difficult. I got addicted to porn for some few reasons:
1. Curiosity.
2. Unsupervised internet surfing.
3. I believed I lacked some intimacy.
That is topic for another day, I know experts have written on porn addiction. The major part I want to address in this post is the way it affects learning. I was a serious night reader as an undergraduate and also struggling with porn addiction. One of the toughest battles I had to fight was my consequential habit of blaming any academic lapse on the habit I had.
Religion Tags You
From the religious perspective, a porn addict in most cases rarely gets the support of his peers which he requires to break the habit. Young student "Pastors" would spend hours preaching about the "sinful" nature of it. Many of them felt they could overcome their own struggles with it by being a constant condemnation to others.
I believe it worked for some, but at the cost of constantly reminding others of their inabilities and indirectly weakening their resolve. It may seem "spiritual" to condemn people who are stuck to their screens but it eventually enslaves them the more.
The fact that porn is condemned as such a "total demon", most people associate God's displeasure to porn. Then they go ahead to associate their failures to God's displeasure.
My Experience
I can say this authoritatively, porn does not reduce your brain capacity. What it may do is:
1. Make you lose hours.
2. Induced fatigue, from sleepless nights of looking for more erotic materials.
3. Increases your anxieties and reduces your capacity to handle anxiety.
4. Porn comes with mental and emotional strain.
5. It lowers self esteem and ability to socialise.
The five points I have listed are the few things I personally noted those times, I was smart and graduated as the second best in my class. As an undergraduate, I excelled with my brains.
What Porn Can Do
Now, I have come to understand that porn is one of the evil things social media has helped to build. It affects people in so many ways, the fact that I could read well and pass my exams does not mean porn did not make me less productive. It made life very difficult and unbearable for me, I always felt hypocritical. I felt dirty and lost confidence, these are issues that could decimate an excellent student's passion or drive.
Your brain may not be roasted by porn but it sets you on a path of self-jugdment. It makes you lose sense of direction, especially when you have set high standards of living for yourself. It is good to listen to your heart and break that porn habit. I have not always been strong but I have understood that academic excellence is limited if I cannot face my fears (porn addiction) and I am happy I kicked the addiction while in university.
PS. This is not an expert opinion, just a post by someone who is real and has had to beat addiction while trying to read.
My blog is about writing and learning. I want to be part of your writing and learning experience. Add your comments, lets be friends.