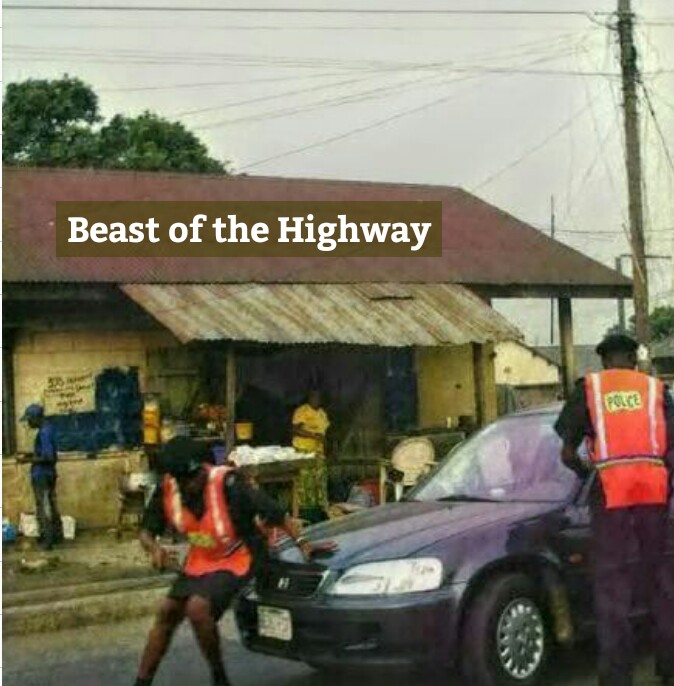 Hey! Only Personal stuff goes here from now on, moved my workshop elsewhere.
Beast of the Highway
By
Damilola Jonathan O.
Mad man grabs the driver,
Pulls at the steering,
Barks and brags both at once,
"I am the Law"
Yet he wants that morsel,
That portion of meals;
The one we fling at dogs!
He is rabid,
Livid with rage,
He mounts his toll post,
Like keeper on the goal post,
Hurl your buses at the fool!
Drag his useless beards,
Step on the accelerator!
He waves a blow,
Holds the swinging door,
Steals a shot at your jaw,
"Oga don't slow down"
Slap the Law in the face!
He has dragged himself in mud,
We must drag him,
Pull your door and swerve,
Swerve till he drops!
The law is a bastard,
We pay him for the highway,
We ask him to do one simple job,
Just to pave the way for the just,
Shut out the unjust,
But the Law is an hungry man,
The law is a grumbling tummy,
A greedy pot belly!
Well I am a driver,
My road is Ore to Benin,
The law can hang on till I crash,
The Law can roar as he pleases,
No chance inside here,
The Law can as well die!
The beast is on the roads,
The beast is in our hearts,
We are the beast and the Law,
The crime and the Jury,
We are the broken Law,
Our fight is for and against,
We pull the door shut,
Fling it open at will,
Maybe the Law will fall off,
Splatter his skull on tarmac,
Law is just a beast!
Join my writing community at creativefreelancewriterz.wordpress.com
For; Editing, Writing tips and you can submit too.