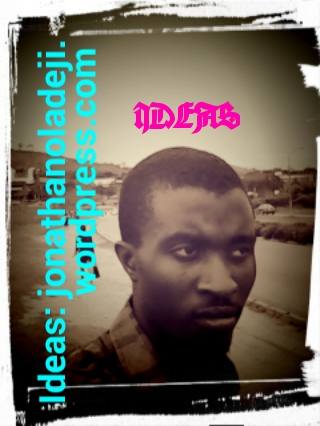 Idea management: I know….is their a certification or profession like that? Its just my way of defining what readers should expect on my blog. My visit today back to OAU Campus Nigeria, slapped me to memories of great ideas that the famous Awo hall inspired in me, motion ground, sport center, just to mention a few of the great spots where ideas have been birthed.
I don't know how many of my friends read my blog or plan to start reading but I will be streamlining my efforts into helping people, stimulate, generate, manage and implement Ideas.
"Every building project starts with an idea", my lecturers in Obafemi Awolowo University would say over and over, its a wrong notion to believe "Plan" is the start. Your Idea may however evaporate within the next 5 minutes from when you have it. You then become the Bill Gate, Steve Jobs, Dangote that never happened!
From my desire to ride a bicycle, to loving the feel of music, to the time I tried my hands on address books (very mini) to the various ideas I have executed and in some cases proposed to firms, I have realized one key thing. Your Ideas could have short or long life span.
Before that, I will briefly start with tips for idea dummies. If you are the unimaginative type and you know it, you rarely think special thoughts, people rarely resort to you for a way forward (in difficult issues) and probably you failed writing or essay tests in school, you may just have had an idea deficiency syndrome. So what should I do?
1. Start to believe in yourself: I once had a lady friend who had problems articulating her thoughts, I found that her faith in herself was quite low, she would say "anything that God plans for me" when I asked what she would love to be. God expects us to master our own domain "multiply and dominate" was the instruction in Genesis. You cannot dominate when you deny yourself a basic right, the right to independent thought.
Ideas = Independent thought.
2. Develop Motivation skills: be stubborn, or learn to be. Most people attribute being stubborn to negativity, you can make your wrong to become your right. The will to think and do is usually a function of time "Rome was not built in a day", if you will learn to stick to your ideas, stubbornness must be channeled into perseverance. You cannot be self-motivated without perseverance:
Stubbornness = Perseverance = self motivation.
3. Read wide: novels (not romance) helped me develop an inquisitive mind. In my undergraduate years, I found that I could reasonably estimate how imaginative you are by your attitude and outlook which in many ways are associated to experience, environment and exposure. When opportunity is lacking, use books e.g. you don't have enough cash to see New York city but reading about the tall skyscrapers and the underground world of trains, touts and drugs gives you enough to write a thesis on central business district and city development characteristics.
4. Find Problems: a passion for problem-solving stimulates independent deep-thinking. If you never try to find ways to make things work, and rarely think of finding other means for carrying out regular task, you may be idea deficient. I used to take a long time to master mathematical concepts because I wanted to find my own ways to solve the "problem" other than the prototype our teacher gave, it turned out that I excelled most in courses that had to do with calculations yet everyone assumed I was not meant for pure sciences. Sometimes, the different route, is the longer one but you must never be discouraged.
5. Write it down: hab 2:2 "write the vision, make it plain"….there is no simpler way to invest in your ideas than taking time to construct them into understandable sentences. This not only makes you obligated to keep having better ways to log your ideas, it makes you want ideas that sound logical and ultimately helps you create more valuable thoughts.
Join loudit.com.ng to spread the passion in your ideas. Also read my previous post "suicide commitment ceremony", its my way of telling you how similar suicide is to killing your ideas. Don't die with what was meant to live beyond you!