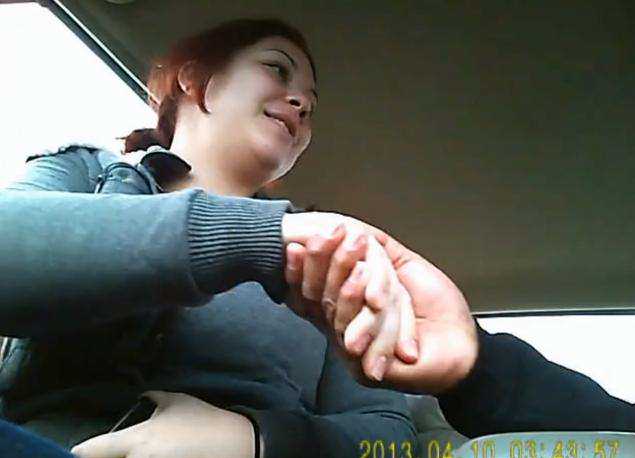 This is another case for my blog this week of desperate measures people would take to get out of a tight spot.
Unlike the previous issue on this blog that involved a man who caged his head so that he would not smoke, this woman takes an inhumane turn to solve her problems.
Just think about it, what decisions would you make or have you made this week that seems close to what this woman did?
And to all my readers in Nigeria hope the rain and cold is not getting at you, wishing you a wonderful July!!!!
"Easier than divorcing him": Wife giggles as she negotiates the price for the attempted murder of her husband with cop posing as a hitman (see photo)
Merfeld, 21, allegedly agreed to pay the killer $50,000 out of her 27-year-old husband's $400,000 life insurance policy.
An ex-Jersey girl, stuck in a failing marriage, opted for a paid killer over a divorce lawyer.
A smiling and giggly Julia Merfeld was captured on videotape in a pair of conversations where she hired a hitman — who was actually a Michigan state police detective.
Merfeld, 21, pleaded guilty last month to solicitation for murder — agreeing to pay $50,000 to the killer out of her 27-year-old husband's $400,000 life insurance policy.
The couple, who have two children, had recently moved to Michigan after the husband's job transfer.
How does she want it done?
Merfeld says killing her hubby in the great outdoors was a preference because she had a girlfriend lined up to move in — and she didn't want her new roomie to get spooked and bail.
Merfeld wears a Batman sweatshirt to the second meeting, where she pays a $100 retainer and presents the "hitman" with hand-drawn floor plans of their home and a photo of her spouse.
"I'm just gonna take him head on there, and I'm gonna shoot him right in the face," he says. "I'm gonna put a couple rounds in his noggin."
"OK," Merfeld replies.
The tapes were released to Michigan media outlets following Merfeld's guilty plea. She faces a minimum of six years in prison at her July 30 sentencing.
Before climbing out of the detective's car, the unhappy wife offered a handshake and a smile to the killer.
"Thank you," she said. "Good luck to you."